There is a multitude of scrubbing brush and pad choices available to optimise the cleaning performance of your floor scrubber. The flexibility of fitting your machine with any brush or pad type allows cleaners to narrow down the most suitable option for the floor material at hand.
The challenge is understanding which option is most suitable to ensure maximum cleaning performance without damaging the floors. Different brushes and pads have varying levels of aggressiveness and abrasiveness to match the floor material being cleaned. Almost all floor scrubbers for sale come standard with a basic cleaning pad or brush, but at times a more specific solution may be required to achieve the results required.
Understanding whether pads or brushes are more suitable for cleaning floors is one of the most frequently asked questions to our team, so we have put together a guide to help customers in the decision-making process.
Please note all recommendations are general in nature and at times more acute solutions are required for customer needs. We strongly recommend you speak to a sales representative if in doubt.
Brushes or Pads? Which is Better to Use?
Simply put,

brushes

are more suitable for

textured floors

and provide a longer life cycle.

Pads

are suited for

smooth floors

.
The reason for this is that brushes are made up of individual bristles, allowing better access into grooves or dips. Pads are alternatively a complete shape giving more area size than a brush; the fuller surface area allows better cleaning coverage of a smooth floor. 
The first step is to determine whether your floors are textured or smooth. If you are unsure, speak to your flooring supplier or contact our sales team who has experience in identifying different flooring applications. Depending on the floor finish will advise whether pads or brushes are required.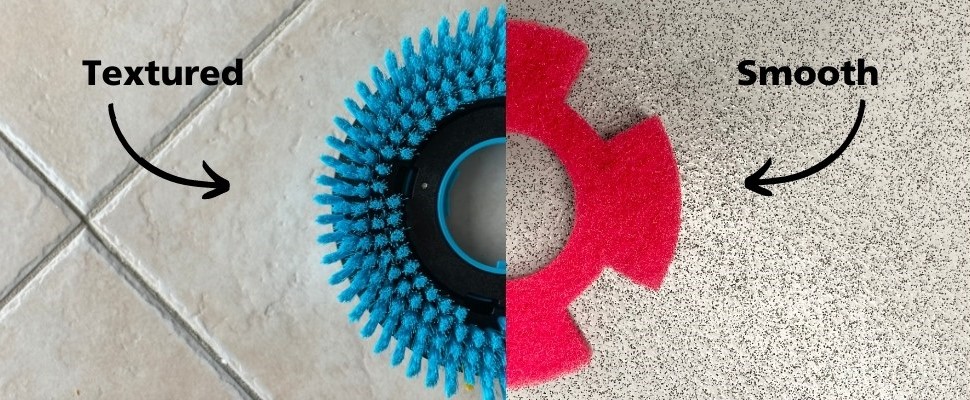 Types of Cleaning Brushes
Professional scrubbing brushes are commonly manufactured by one of the following materials:
Nylon - soft brush

Polypropylene - standard daily cleaning brush

Prolene - medium duty cleaning brush

Natural Fibre - reduces friction on rubber floors

Polyester - suitable in wet cleaning conditions

Tynex - abrasive brush

Most scrub brushes are named based on the

material type

. For better clarity, some manufacturers label their scrubbing brushes by the
grit
level (level of abrasiveness) to show the level of roughness of the bristles. Other manufacturers label based on the intensity of the cleaning result desired by the user, such as '

heavy-duty

' or '

super abrasive

'.
One of the greatest advantages of scrub brushes is their ability to access low spots on your floors. Choosing the right brush will ensure better access to grooves and dips.
We have attached a
Brush & Pad Guide
that breaks down in more detail the different brush types and their suitable floor material type.
Download Brush & Pad Guide
Understanding different cleaning pad types are a bit easier than brushes as there is a universal colour code used across the industry:


White - light buffing and polishing

Red - mild cleaning and buffing

Blue - heavy duty cleaning of dull/unsealed floors

Green - aggressive cleaning on unsealed floors

Black

- stripping of floors



White and red scrubber pads are on the softer end of the spectrum whereas black pads are not even considered a 'cleaning' pad at times, as they are used only for stripping floors down. Careful selection of the right scrubber pads is required to prevent damage and stripping of floor seals. It is also important to note that not all floor sealers are equal and different results can occur.
Again the Brush & Pad Guide is attached to guide cleaners in their decision-making.
Download Brush & Pad Guide 

Wear Life of Brushes & Pads
Cleaning brushes and pads are considered

consumable parts

due to their wear life. Over time, they will need replacing as a result of wearing down to a less optimal length and/or abrasiveness. 
It is difficult to predict the wear life of any brush or pad as it is dependent on the machine's brush pressure, type of surface, and usage by the operator. Keep in mind an incorrect pad or brush for the application can result in quicker wear life. For example, a soft bristle brush is used to clean a rough concrete floor will wear out much faster than a super abrasive scrubbing pad. 
Most brushes have a yellow wear indicator to show when it is due for replacement. We recommend keeping a record of the part number/SKU number of your pads and brushes to quicken the reorder process or keeping a spare set so they are readily available when replacement is required.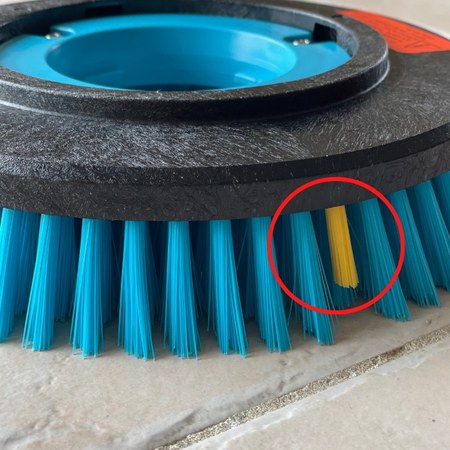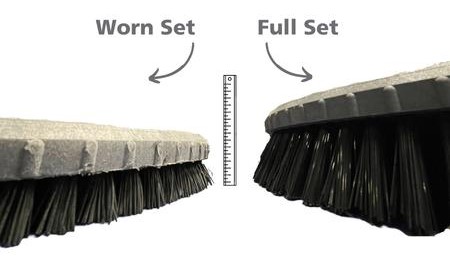 The diameter of a suitable cleaning brush or pad is model specific to your floor scrubber. Consult your parts list or operator manual to determine the fit size. Brushes and pads for sale are normally sold in inches (") or millimetres (mm). Capital Equipment Hire stocks many genuine and non-genuine replacement pads and brushes for sale, simply visit our shop page.
Trying a New Brush or Pad Type
If you have just bought a new floor scrubber or are trialing a different pad or brush from the standard options, we strongly recommend doing a

'spot clean'

in an inconspicuous area in case the chosen accessory is not suitable for your floor. Cleaning floors can be a very delicate exercise so to prevent an unexpected result, make sure plenty of water and cleaning chemicals are applied to the surface (lather it up) before scrubbing with a new pad or brush. 
We have some example pads and brushes that can be trialed on our showroom floors before purchase.
Suitability of a Brush or Pad on a Specific Floor
It is important to note that there is no straight answer to which brush is suitable for which floor. Soft and hard floors are manufactured differently and, as mentioned before, the type of sealer will affect the cleaning result. Careful experimentation and research are needed to decide on the right choice with the guidance explained in this blog.
Cleaning pads and scrubbing brushes offer the greatest opportunity to customize your cleaning method to achieve the best result possible.  When choosing a scrubbing pad or scrub brush, always consider the roughness of the material to the roughness of your floor. Additionally, consider the texture of the floor to choose whether a pad or brush is more suitable. 
Do you still have questions in which is best for your floor type? Contact our expert team who would be more than happy to assist!