Buy Or Hire Professional Cleaning Equipment

PRODUCT CATEGORIES


Capital Equipment Hire is dedicated to being the leading cleaning equipment solutions provider within Australia. Delivering unrivalled value to our customers since 2004, we partner with commercial and industrial businesses to supply cost-effective solutions to maintain a clean and safe working environment. A family-owned business with the focus of exceeding our customer's expectations, we continue to work closely with our client's ever-changing needs, providing the latest technology to gain the most cost-effective cleaning solution in a professional and personal manner.
Our valued clients are from diverse industries including warehousing, transport, pharmaceutical, automotive, construction, hospitality and cleaning contractors to name a handful. We see each new customer as a chance to build long term mutually satisfying business relationships, sharing our wealth of knowledge in providing cost-effective solutions to their individual cleaning challenges.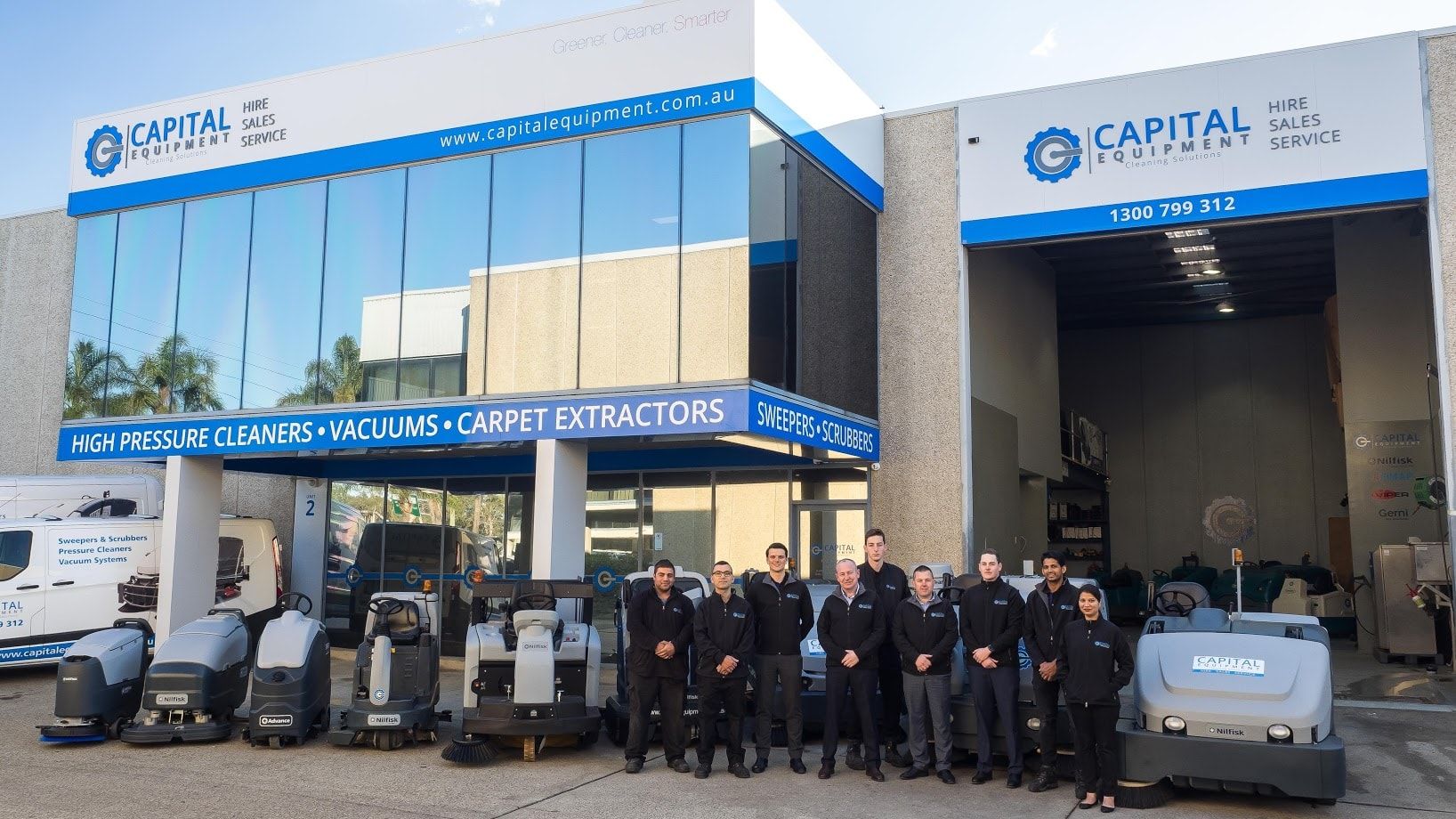 Cleaning Equipment Solutions
Capital Equipment Hire has an extensive range of professional cleaning equipment from selected international brands that are available for purchase or hire; hire from 1 day to 60 months. An industry-leading supplier of floor cleaning equipment utilising years of industry experience, with an extensive range of new and used models readily available. We provide commercial and industrial floor sweeper hire, as well as commercial and industrial floor scrubber hire to ensure we offer the most complete floor cleaning machine hire fleet in Sydney.
Our range offers walk behind floor sweepers and ride-on sweepers - suitable as commercial sweepers, industrial sweepers, car park sweepers, warehouse sweepers and more. Our variety of walk behind scrubbers and ride-on scrubbing machines cater to a wide range of commercial and industrial tasks, and our combination sweeper/scrubbers are available for highly efficient large area cleaning. We're a premier provider of cold and hot water pressure washers, commercial and industrial vacuums, and specialised bespoke vacuum system requirements. Browse our online shop to view our entire range of new equipment.
Our affordable selection of approved second-hand equipment offers solutions for all budgets and are available with a warranty for peace of mind. Visit our used page to see what second-hand equipment is currently available.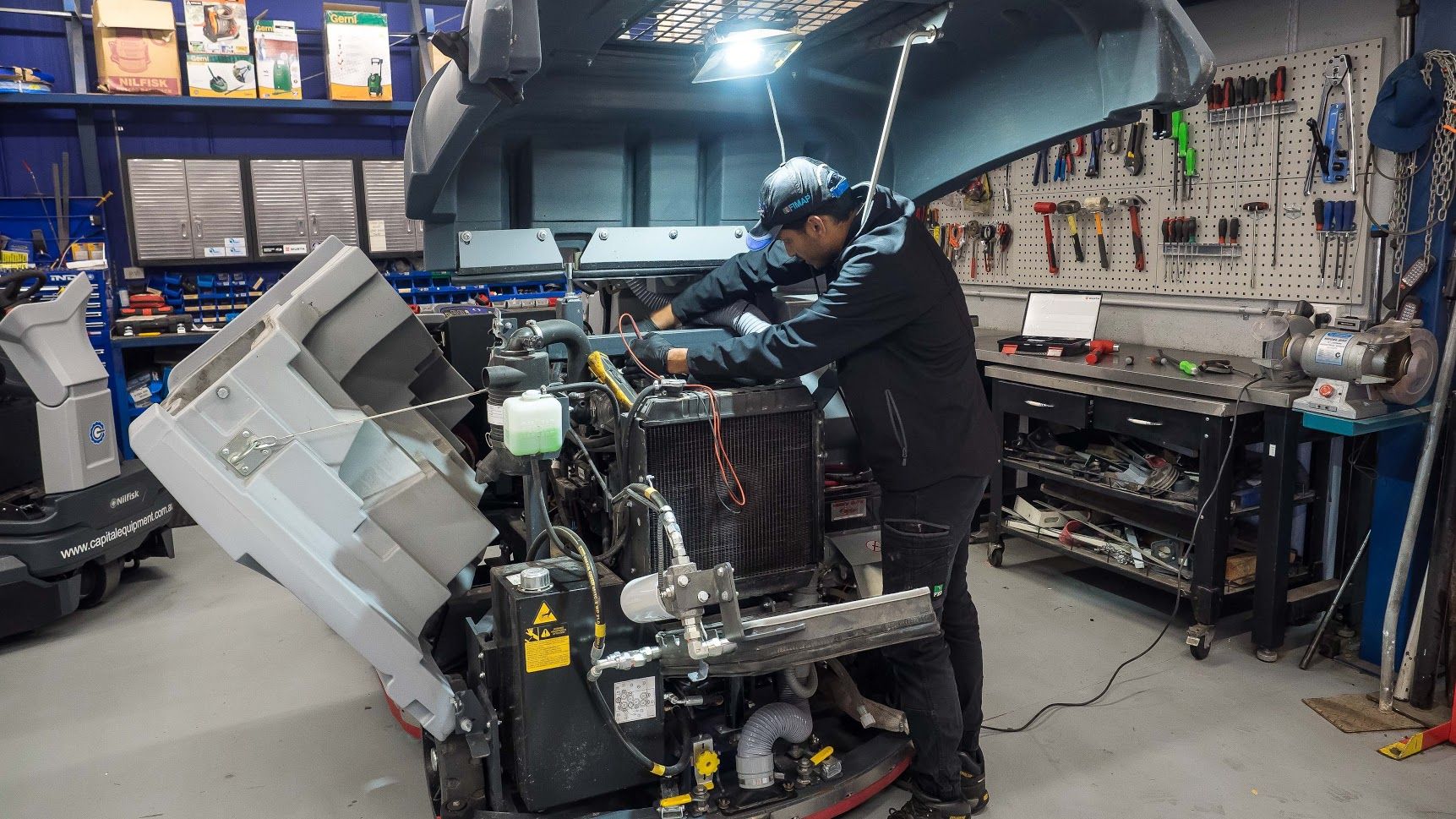 After Sales Support
We understand the importance of quick response times and pride ourselves on effective service programs to optimise your machine's success. Our new state of the art workshop facilities is designed to conduct major repairs or refurbishment of your cleaning equipment in a cost-effective method providing value for your investment. Our experienced factory-trained service technicians and mobile service vehicles are utilised to complete efficient on-site periodic maintenance and repairs.
Parts are kept readily available thanks to our custom ERP monitoring system, allowing fast dispatch to ensure your machine continues performing at its highest level. We have an extensive range of genuine replacement parts available and are continually refining our stock levels to meet our customers' ever-changing demands. We also source and test non-genuine substitutes to OEM components to offer lower-cost alternatives, providing they offer value and meet our strict quality control procedures.
For the total management of service and repairs of your sweeper, scrubber dryer, combination sweeper/scrubber dryer, carpet care equipment, commercial or industrial vacuum or vacuum system and high-pressure washer machines, contact our friendly service team on 1300 799 312 or service@capitalequipment.com.au.