The Best Industrial Vacuums Are What Every Business Needs in 2022
Keep costs down, exceed safety standards & run a smooth operation
Although cleaning is a functional requirement of all companies, businesses undertake professional cleaning practices to gain a number of different benefits depending on the industry and culture. As a B2B cleaning equipment dealer, some of the most common reasons why our customers approach us is to:


Clean for efficiency

Clean for hygiene

Clean for maintenance

Clean for safety

Clean for public image

And clean for morale.
For construction, mining and manufacturing industries, cleaning for safety is one of the most important factors due to hazardous dust risks. An industrial vacuum cleaner is the primary solution recommended for collecting and disposing of this kind of waste, and when combined with the right filters and dust bags, certain industrial vacuums can remove hazardous dusts including silica and asbestos.  
Read below what the best industrial vacuum cleaners are for 2022 and why your facility needs to invest in a solution like this. 
Industrial vacuums are different from commercial models mainly due to their make, filtration and tank capacity. Depending on the facility requirement, industrial vacuums can be broken down for non-hazardous dusts, H-Class hazardous dusts, and explosion-proof for the most extreme applications.
LOW RISK DUST: Non-hazardous dust vacuums
Non-hazardous dusts typically cover dirt and household dust. This sort of waste can be sufficiently collected and disposed of using an L-Class industrial vacuum, such as the KVAC59PE wet & dry pump-out vacuum cleaner. This push-trolley style vacuum is suitable for applications such as:
construction sites where debris is both wet and dry

trade workshops where daily operations cause excessive dirt, oil or wood chip waste

removing sludge at a site where wet weather has occurred

pumping out high volumes of wastewater.
Having 2 suction motors and a solid build to withstand harsh environments, KVAC59PE is a very handy choice for low-risk industrial clean-ups.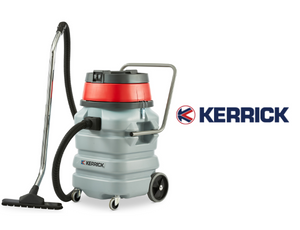 KVAC59PE Wet & Dry Vacuum
Also available in pump-out version, KVAC59PE is one of Kerrick's most popular wet and dry solutions on the market.
View Here
HIGH RISK DUST: H-Class industrial vacuums
For circumstances where there is even the slightest risk of hazardous dust creation like silica, hardwood or asbestos, Nilfisk VHS42 40L H Class is one of the best industrial vacuum cleaners around. If you are trying to determine whether your site could be generating hazardous dust, check if you engage in the following activities:


Hammering or chopping

Rock-crushing

Jackhammering

sawing/milling

Drilling

Sandblasting

Grinding

Filling or surfacing.
All these activities can cause hazardous dust from materials such as quartz, hardwood, manufactured stone, kitchen benchtops, mould, lead, mineral fibre, asphalt or MDF board. Depending on your site, you may be required under WHS regulations to make use of a H-class vacuum for effective and safe dust collection. SafeWork Australia has comprehensive explanations about hazardous dusts and workplace standards. VHS 42 40L industrial vacuum provides the following advantages for operators:
power tool link-up for immediate dust collection as it is created.

HEPA filter with >99.995% filtration

InfiniClean filter system; patented Nilfisk technology

Choice between fleece, disposal, safety or long-life dust bags

Various floor tool accessories to customise your unit for your application

Available also in M-class and 30L variants.
An additional option for the VHS 42 H-class and other industrial Nilfisk vacuums is the choice for DOP testing to acquire a certificate. This testing certifies your industrial vacuum is effective in collecting the hazardous waste at your site. Testing can be organised through select dealers (such as Capital Equipment Hire) to have your site inspected at the time of purchase. Our team will be able to provide more details for interested parties.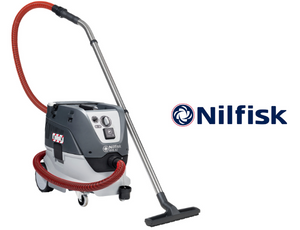 VHS42 40L H-Class Vacuum
Also available in M-Class & 30L versions, VHS H-Class vacuum cleaners are great for many trade specialties that need to manage dust.
View Here
HIGH RISK DUST - Explosive-Combustible Dust Vacuums
In the most extreme applications such as commercial bakeries processing flour, industrial vacuum cleaner solutions for explosive dust are required to protect staff and facilities from major hazards. Potentially combustible dusts can include cereals, sugar, coal, textiles and flour when exposed to air, meaning an industrial vacuum cleaner can help prevent these environments from developing. 
Some facilities including coal mines and shooting ranges need to be aware of both inhalation hazards and combustible hazards at their sites, (e.g lead and gunpowder at shooting arenas). A specialised solution can be put together
Three phase and single phase vacuum units are available to manage these types of applications, where the VHS 110 Z 22 vacuum is a recommended model available.
For zone 22 ATEX areas, VHS 110 Z has the following features:
37L tank capacity

10,000cm squared filter area

75dB(A)

3600L/min airflow

stainless steel waste container

IP Protection Class 65
Due to being such a specialised requirement for certain clients, Capital Equipment Hire provides more detailed information and recommendations to ensure you are selecting the right, most suited industrial vacuum for your needs. There are options to allow you to meet IECEx regulations.

Need something in-between? Consider an M-Class vacuum
Medium-risk dusts need M-class vacuum solutions for safe collection and disposal like H-class dust. M-class dusts can include pine-wood, grout, filling materials, plaster, cement, concrete and more. The VHS 42 also comes in M-class variants for your review. 
Important Note
Some M-class materials are still capable of generating H-class dust. If you are unsure about the dust type on your site and would like to seek some professional advice, Zero Industries is a key partner that helps identify hazardous and explosive dusts through safety audits and testing. Zero Industries helps businesses stay compliant with current safety regulations. Learn more about their services here.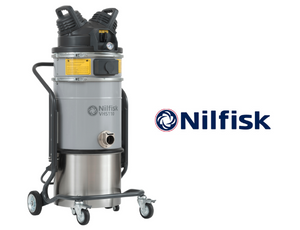 VHS 110 Industrial Vacuum
Suitable for the most extreme dust applications, speak to one of our Sales Representatives to organise DOP testing.
View Here
---
Have you heard about the $1000 SafeWork Rebate?
If you are considering investing in a new industrial vacuum to improve the health and safety of your workplace, you could be eligible for a $1000 rebate from SafeWork NSW. You will need to attend a SafeWork event before you apply, but once applied, the first $1000 ex GST of an equipment purchase will be reimbursed.

Check the SafeWork NSW site for more detailed information surrounding eligibility: https://www.nsw.gov.au/grants-and-funding/1000-safework-small-business-rebate