Popularity of i-mop floor scrubber in Australia
Over the past 24 months we have seen a growing number of people trading in the traditional mop and bucket for a more mechanised solution promised by the i-mop series at i-team. Believe it or not, the demand behind this scrubber has grown rapidly as we see not only contract cleaners, but domestic users investing in the power, convenience and reliability of the i-mop floor scrubber.
Turning away from traditional cleaning tools such as mops and brooms can at first be met with some resistance, but as we see a world turning to convenience more and more, and the overwhelming desire for safety thanks to the prolonged pandemic effects, the i-mop has become preferred choice for many for reasons that will be discussed below.
Traditional Cleaning Practices
Wet mops have existed for as early as the 1800s, slowly developed and produced on a mass scale into the 1900s for both domestic and commercial cleaning applications. They have a very basic configuration consisting of the mop head that cleans the floor, long handle to control and manoeuvre the mop over a selected area, and the attachment fixing the two pieces together. Dry mops, or brooms tend to be used over a surface first to remove the larger debris, then a wet mop to thoroughly clean stains, grime and impurities stuck to the surface. There are various microfibre materials that can make up the mop-head such as polyester to hold more water and dirt. Mops are primarily used by domestic households and contract cleaners.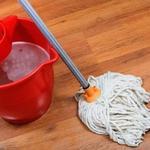 Wet Mop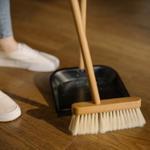 Dry Broom
Emergence of Automated Walk-Behind Scrubbers
Despite the mass-use of mops, it soon became clear how labour-intensive operating mops are and the slow productivity rates when trying to clean areas of significant square meterage. These additional costs led to a new demand in the market for something more efficient, particularly for contract cleaners needing to cover multiple client locations in a matter of hours. 
Automated floor scrubber innovations began in the 1900's developing in two main operator configurations of walk-behind floor scrubbers (for small to medium sized areas) and ride-on floor scrubbers (for large areas). Both configurations offer much faster productivity rates in square metres per hour, and provide an opportunity to fit a series of brush and pad options to better suit the floor material and dirt type. Automated scrubbers have remained a preferred option in the 21st century, with a number of reputable suppliers including Tennant, Nilfisk, Fimap and Viper providing quarterly innovations to enhance the cleaning experience of their models.
Introduction of the i-mop into the Australian market - how is it different?

GAP IN THE MARKET
Despite the unmistakable improvements to floor cleaning equipment over the given decades, there are still domestic and commercial cleaners that struggle to find a solution that not only cleans well, but is productive, fits in tight areas and transports easily. These needs usually mean a trade-off between either a manual traditional mop or a bulky automated floor scrubber.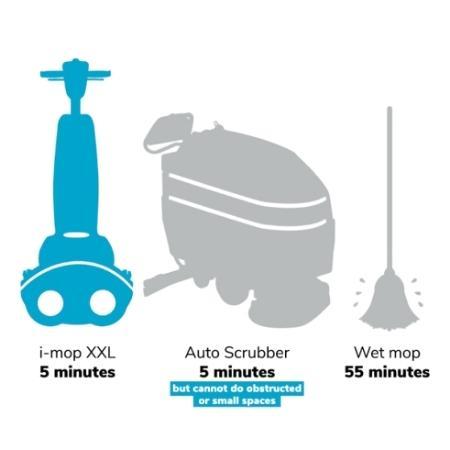 i-mop as a solution to the gap
This is where makers behind the i-mop had a vision where they combined the power of a commercial scrubber with the light-weight manoeuvrability of the traditional mop, to create an unparalleled solution for cleaners globally. The i-mop offers 360 degree manoeuvrability, meaning gliding pass or under objects is not an issue, and configurable into a folded position to allow easy transport between locations and storage in the car or cupboard! It also has a likeness to the traditional mop.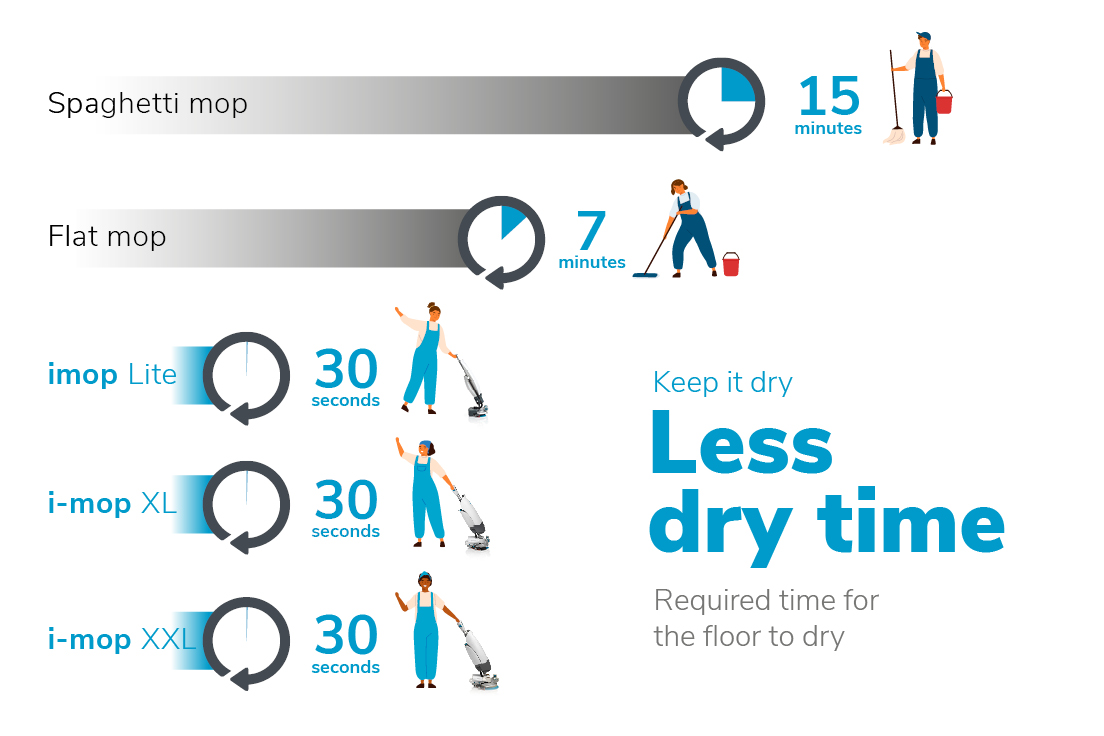 The i-mop was firstly released as the i-mop Lite model in Australia, shortly followed by the i-mop XL and i-mop XXL variants to provide varying levels of cleaning paths and scrubbing pressures to suit different cleaning contexts. From there the XL and XXL models introduced Basic, Pro or Plus attributes to provide another layer of additional features to suit unique cleaning applications. For example, the i-mop Pro features a protective coating on the scrub deck to allow cleaning around swimming pools without the damaging effects of salt and chloride. 


The i-mop Lite is typically recommended for smaller domestic uses and the i-mop XL and XXL units for larger commercial cleaning applications. 

Power Type
Battery through a choice between i-power 9 or 14 high capacity lithium-ion batteries (up to 60-minute runtimes for XL/XXL and 45minutes for Lite).

Brush/Pads
Choice between a series of commercial grade brushes and pads with different abrasiveness to suit different floor types.

Charging
Standard or fast charger options to allow cleaners to get their batteries charged as soon as they need. Buy 2x sets for constant charging rotations.

Efficiency
less water consumption compared to other conventional automated scrubbers. 2.2L i-mop Lite consumption compared to 17.4L spaghetti mop consumption (for 300 sqm). 

Configuration
Light
weight walk-behind scrubber to allow easy operation and mobility during a cleaning session.
Productivity
cleans 6x faster than a traditional mop.

Accessories
multiple optional accessories to choose from such as the i-dose solution tank to make use of detergent pod-dispensing system.



i-mop as an industry solution

We have provided hundreds of i-mops to various customers coming from various industries requiring a fast, effective and convenient cleaning solution including but not limited to:
Commercial kitchens - cleaning tiles with high foot traffic on a daily basis.

Office spaces - reception areas, meeting rooms and desk booths.

Education precincts - bathrooms, common areas, classrooms and libraries.

Hospitality - bathrooms, dining areas and hotel rooms.

Domestic applications - large family homes cleaning tiles and grout.
What is next for the i-mop? 

Innovations to the i-mop isn't over yet. i-team will be introducing over the course of 2022 new improvements to continue making cleaning easier, faster and better. Some emerging updates include:


i-power 20 batteries: up to 130 minutes of runtime in a single session (with the i-mop XXL). 24V, to be released later in 2022.

Parking Support: new bracket that will hold the i-mop in a standalone upright position instead of needing to raise the scrub deck each time.

Anti-bacterial tanks: antibacterial infusion in tank helps kill bacteria and other impurities, safer for the cleaner during disposal.

i-link tracking system:  for i-mop XLs/XXLs, especially handy for contract cleaners needing to track battery levels, live location and service due dates.
Where to learn more about the i-mop 
We are proud Australian suppliers of the fantastic i-mop floor scrubber and provide the option to buy or hire the i-mop Lite, XL and XXLs. Please view our designated product pages for more details about each model, or visit our Instagram page to see some videos in action!


Need help deciding? Contact us!
Capital Equipment Hire are providers of hundreds of different cleaning equipment models ranging from scrubbers, sweepers, vacuums and pressure washers to enable every customer to find a solution that suits them. Our sales team have years of experience in the cleaning equipment industry, guaranteeing reliable advice and support for each customer.