COMMERCIAL SCRUBBER DRYERS
Full range from compact Walk-Behind Scrubbers to Ride-On Scrubbers.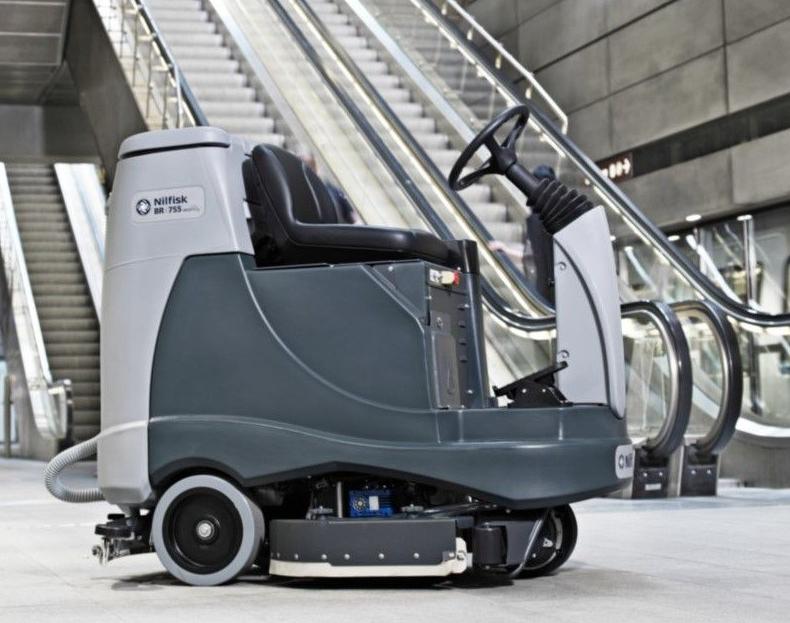 Choosing a Scrubber Dryer
Industrial Floor Scrubber Machine, or Commercial Floor Scrubber Machine?




The conditions and size of your site will determine what you require. If the site is small and well maintained, a commercial scrubber might suit you best. If the site is large and difficult to maintain, an industrial scrubber might be the best option for you.

A range of commercial floor scrubbers for sale and industrial floor scrubbers for sale can be viewed in our shop!




Walk-Behind or Ride-On?




For large areas, a ride-on floor scrubber will offer a higher productivity rate, and a faster clean. For small areas, a walk-behind floor scrubber offers greater accessibility and usability.




Brushes or Pads?




Each machine model has different brush (cylindrical or disc) and pad (fine or abrasive) options suitable for different flooring. See our brush and pad guide below for a detailed description on the variety.
Shop Our Scrubber Range...
Black Friday Scrubber Deals
Scrubbers Sydney - The Industry's Best Industrial and Commercial Floor Scrubbers
Looking for a suitable scrubber dryer for your site? We have a wide selection of equipment from compact walk-behind scrubbers to large ride-on scrubbers. Our expert advice and extensive range allows us to match you with the machine best suited to your needs, and our unrivalled customer service is our number one priority.
Choose from the latest scrubber dryer models, available for purchase or hire from 1 day to 60 months. Ride-on floor scrubbers offer higher productivity with increased cleaning performance and efficiency in large areas. For smaller areas, a walk-behind floor scrubber offers greater manoeuvrability and access to those tight areas.

O perating since 2004, Capital Equipment Hire is a family owned company and Australia's #1 choice for commercial and industrial floor cleaning solutions.


U nrivalled service and after sales support from our experienced factory trained technicians in our mobile service vehicles an custom outfitted workshop. Lo n g-term hire rates inclusive of periodic on-site service and maintenance. Contact our friendly, knowledgeable team on 1300 799 312 or visit our online shop to browse all models available for hire or purchase.

At Capital Equipment Hire, we are committed to providing the most suitable floor scrubbing solutions for all commercial and industrial applications. Simple to use, durable, and reliable, these machines make for cost-effective, easy, and productive cleaning. Maintaining industrial and commercial spaces requires high-quality and capable equipment. Save time and labour—obtain a new level of professional cleaning results, easily.


Take on the big tasks, vast areas, or compact spaces with a manoeuvrable walk-behind or ride-on floor scrubber. Our machines are available for purchase, short-term rental, or long-term hire with on-site service and maintenance.


The #1 Floor Scrubber Hire in Sydney

Capital Equipment Hire sources the best brand names, including Nilfisk, Fimap, Viper, and Tennant to scrub and dry with consistent spotless results.


You may need a full ride-on industrial floor scrubber or a more compact commercial walk behind scrubber machine. Our team will ask you about the size of the worksite as well as how maintained it is, and then suggest a scrubber to best suit your needs. We've been providing industrial and commercial scrubbers to the Sydney area for over a decade and are eager to find the right option for your enterprise.

Browse our inventory for a suitable scrubber dryer for sale that you can rent, hire, or purchase. Be sure to take advantage of our service support team. W e 're happy to offer expert advice. Customer service is and always has been our first priority.
Capital Equipment Hire is a family-owned independent company and Australia's #1 choice for commercial and industrial floor cleaning solutions.


Satisfaction is guaranteed, machines are supplied with full-manufacturer's warranty, and replacement parts are kept readily available. We've tailored our system to meet the ever-changing demands of Sydney's cleaning industry—and to keep up with your unique needs with a speedy dispatch.


You can get in touch with our sales support team by calling us at 1300 799 312 or email us at sales@capitalequipment.com.au Whatever your industrial and commercial floor scrubber needs, we are confident you can find what you need in our inventory. Our floor scrubbers offer accessibility, usability, and high-performance results
Professional Care for your Floors, a Floor Scrubber for Every Job
From everyday maintenance to deep cleaning, when you use a floor scrubber you are guaranteed an outstanding floor clean every time. Choose a commercial scrubber dryer from Capital Equipment Hire for fast-drying floor cleaning – these top-quality floor scrubber machines thoroughly clean, scrub, and dry floors in a single pass.

At Capital Equipment Hire, we are a leading supplier of high-performance sweepers, floor scrubbers, vacuums, and pressure washers. We have been operating since 2004 and are proud to be Australia's number one choice for commercial and industrial floor cleaning solutions.
Capital Equipment floor scrubber dryer range

Our extensive range of industrial equipment is available for purchase, casual or long-term hire. We have a wide variety of floor scrubber machines to suit your cleaning needs. Our floor scrubber machines include a range of commercial scrubber dryer appliances from superior manufacturing brands including Fimap, Viper, Nilfisk, and i-team ANZ. With an extensive selection of industrial machines, including the in-demand Nilfisk SC100 scrubber dryer, you can be sure Capital Equipment Hire has a floor scrubber to suit your requirements.

Our floor scrubber range is ideal for small to large commercial enterprises; we supply equipment to cleaning businesses across Australia. Our reliable, quality machines help to maintain professional cleaning standards in hospitals, office units, factories, and retail and leisure premises.
Types of Floor Scrubber
There are a variety of different floor scrubber machines to choose from depending on your cleaning requirements. We stock ride on scrubber dryers including the popular Nilfisk BR855 and the heavy-duty industrial Nilfisk SC8000, as well as compact walk-behind floor scrubber machines.
Our range of ride on scrubber dryers offer maximum productivity and ease-of-use for the cleaning operator. These large-scale floor scrubber machines provide precision floor cleaning and are an excellent choice for large commercial and retail premises.
If you are looking for a commercial scrubber dryer for a smaller area, a walk-behind floor scrubber may offer a more effective cleaning solution for your business. These floor scrubbers are compact and easy to maneuver making them the ideal choice for small to medium-sized commercial sites. See our cleaning small areas blog to compare compact floor scrubber model.

Take a look at our range of floor scrubber machines to find a commercial scrubber dryer that suits your needs. At Capital Equipment Hire, our selection of floor scrubber machines are available to hire or purchase depending on your requirements. If you need help choosing the right floor scrubber for your enterprise, please contact us and our experienced, friendly team will be happy to assist you.

Hire or purchase a floor scrubber today - 1300 799 312