The vacuum cleaner market is one of the most diverse and competitive cleaning equipment categories around. This is due to the various configurations, power types, filtration designs and dust bag options. They can range from generic domestic vacuums up to industrial explosive dust vacuums, an option for every industry and environment. 
For contract cleaners, backpack and upright vacuum cleaners are two of the most preferred configuration types available for sale. A backpack vacuum is where the machine is fitted to the operators back by shoulder straps and an upright vacuum is manoeuvred in a backwards/forwards motion by the top handle.
Aside from the power type, choosing between a backpack vacuum or an upright one is usually the largest consideration of a cleaner when purchasing a unit. Below we will point out the most appropriate option based on the type of benefit a cleaner may seek to help make a more informed decision. One configuration is not simply 'better' than the other, it is better based on your individual applications, operator type and budgets.
For Convenience: Backpack
One of the greatest advantages backpack vacuums offer is their unrestricted ability to access congested spots. Mounted on the operator's back, backpack vacuums are never obstructed by furniture, corners or doorways and therefore reduce cleaning interruptions. By having easier movement across areas, backpack vacuums are a more convenient choice for cleaners and allow a more thorough clean to take place. 
Vacuum suppliers also usually aim to enhance the convenience of these vacuums by ensuring floor tools, power switches and other attachments are in easy reach of the operator during the cleaning process.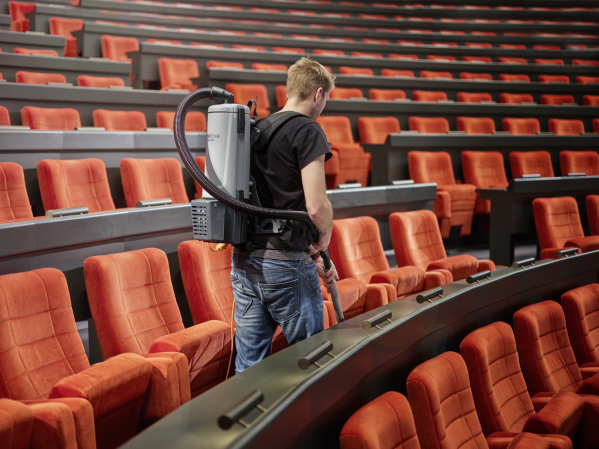 For Productivity: Backpack
Due to being a more manoeuvrable choice, backpack vacuum cleaners can help reduce the total cleaning time of an area which is particularly beneficial for public environments or large-scale cleaning contracts. Increasing cleaning productivity is one of the most important factors of any cleaning requirement and backpack vacuum cleaners allow a better way to achieve this. 
One great example is the i-move 2.5B commercial vacuum from i-team, a battery-powered backpack vacuum with up to 50 minutes of operating time through the two i-power batteries and the ability to swap additional batteries to increase run time if or when required. A large selection of attachments is provided with the vacuum to better customise the clean.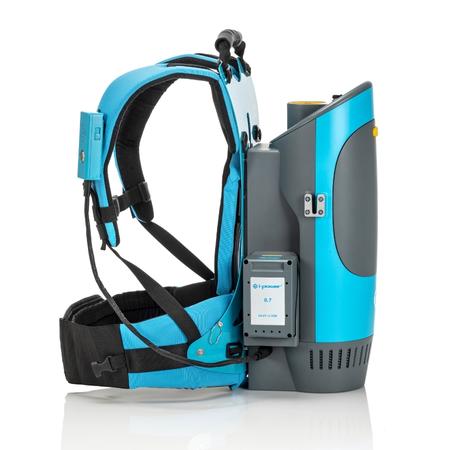 For Suction Power: Upright
Backpack vacuum cleaners are typically a more compact option for cleaners meaning the motor and other components will be produced in a smaller scale than upright models. This is notable when comparing the suction power. Upright vacuum cleaners tend to have larger motors for larger capacity. For example, the rated power of a GD5 backpack vacuum cleaner is 780W whereas the motor power of the vac30UR is 900W. This extra power and rotating brush provides more thorough cleaning especially for fibrous surfaces like carpets and rugs.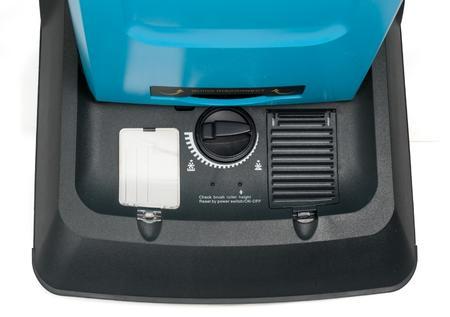 For Capacity: Upright
Since backpack vacuums need to focus more on operator ergonomics and product weight, backpack vacuums miss out on the larger capacity advantage upright vacuums have. The largest upright vacuum cleaners can have up to 35L of dust bag capacity (view the GU700A product) whereas backpack vacuum cleaners can average around 4-5L. This difference means operators who use a backpack vacuum will need to swap out their dust bags a lot more frequently than an upright vacuum cleaner, interrupting the cleaning process more. Depending on the level of debris a cleaner will face in a certain environment, an upright vacuum cleaner may be the preferred choice.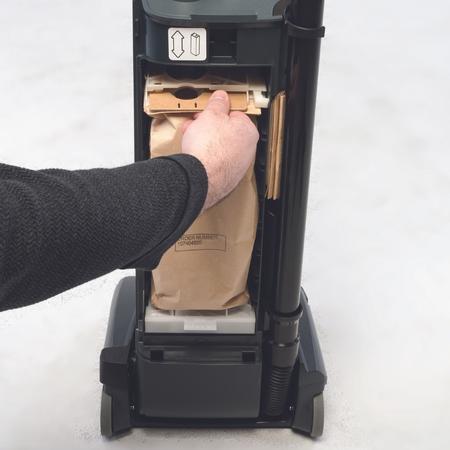 Another consideration: Operator Fatigue

With any cleaning machine, operator fatigue can develop over time. Backpack vacuum cleaners tend to cause strain quicker than upright because of the weight the operator carries during the cleaning process. 
Vacuum suppliers aim to make backpack vacuums as lightweight and comfortable as possible, but decision-makers still need to think about who their operators are and whether they can cope with a backpack vacuum's weight. Visiting a cleaning equipment dealers showroom to trial some backpack options is a good idea.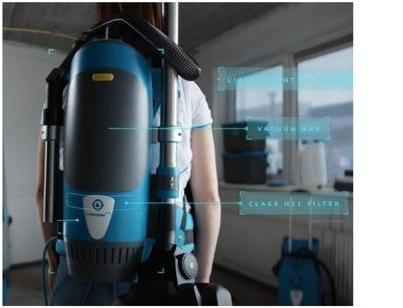 Conclusion
Comparing a commercial backpack vacuum cleaner vs an upright model demonstrates each configuration has its benefits and drawbacks depending on the needs of the cleaner. If you value convenience, productivity and ease of use, maybe a backpack vacuum is the preferred choice. If you value stronger cleaning results and reduced dust bag turnover, an upright vacuum may be better. Capital Equipment Hire has a choice of both vacuum cleaner types on display for anyone who would like to compare the choices more thoroughly before buying. Visit our showroom from Monday to Friday to see which option is best for you!
Shop Backpack and Upright Vacuum Cleaners!